New Ministers of Trade,Industry and Cooperatives Oriented.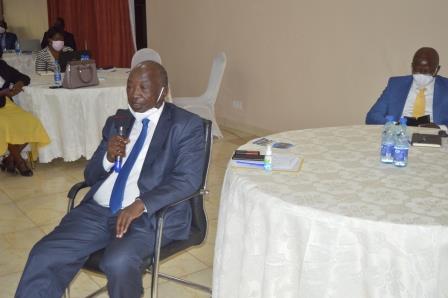 On 3rd and 4th August 2021,the Ministry of Trade,Industry and Cooperatives Departments Agencies and Trusts took the new ministers through the functions,mandates,plans and priorities of the Ministry.
During the Meeting,the New Minister of Trade,Industry and Cooperatives Hon. Mwebesa Francis emphasized that it will not be business as usual.
He Emphasized that in the undertakings of the Ministry, focus should be on; environmental conservation, poverty alleviation, implementation of the Parish Development Model and promotion and protection of Ugandan manufacturers and traders. He asked that all this must be done with discipline and teamwork.
The Meeting also re echoed that  the scope and key areas in the Ministry's implementation of NDPIII are:-
Manufacturing.
Agro-Processing.
Promotion of Cooperatives; and,
Mindset change.
All Departments units and Agencies made presentations as below:
BUSINESS DEVELOPMENT PRESENTATION
COOPERATIVES DEVELOPMENT PRESENTATION
DEPARTMENT OF INDUSTRY PRESENTATION
EXTERNAL TRADE DEPARTMENT PRESENTATION
GOVERNMENT COMMUNICATION STRATEGY