DESIGN, SUPPLY AND INSTALLATION OF A SMALL-SCALE CROSS BORDER, MANAGEMENT AND CLEARANCE SYSTEM PR REF NO: MTIC/GLTP/2020-21/00105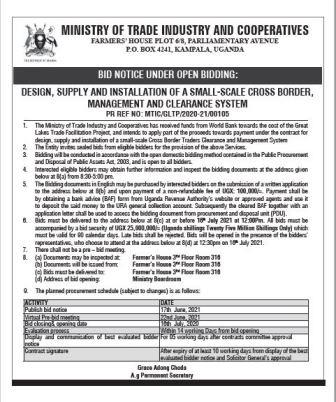 BID NOTICE UNDER OPEN BIDDING:
1. The Ministry of Trade Industry and Cooperatives has received funds from World Bank towards the cost of the Great
Lakes Trade Facilitation Project, and intends to apply part of the proceeds towards payment under the contract for
design, supply and installation of a small-scale Cross Border Traders Clearance and Management System
2. The Entity invites sealed bids from eligible bidders for the provision of the above Services.
3. Bidding will be conducted in accordance with the open domestic bidding method contained in the Public Procurement
and Disposal of Public Assets Act, 2003, and is open to all bidders.
4. Interested eligible bidders may obtain further information and inspect the bidding documents at the address given
below at 8(a) from 8:30-5:00 pm.
5. The Bidding documents in English may be purchased by interested bidders on the submission of a written application
to the address below at 8(b) and upon payment of a non-refundable fee of UGX: 100,000/=. Payment shall be
by obtaining a bank advice (BAF) form from Uganda Revenue Authority's website or approved agents and use it
to deposit the said money to the URA general collection account. Subsequently the cleared BAF together with an application letter shall be used to access the bidding document from procurement and disposal unit (PDU).
6. Bids must be delivered to the address below at 8(c) at or before 16th July 2021 at 12:00Pm. All bids must be
accompanied by a bid security of UGX 25,000,000/= (Uganda shillings Twenty Five Million Shillings Only) which
must be valid for 90 calendar days. Late bids shall be rejected. Bids will be opened in the presence of the bidders'
representatives, who choose to attend at the address below at 8(d) at 12:30pm on 16th July 2021.
7. There shall not be a pre – bid meeting.
8. (a) Documents may be inspected at: Farmer's House 3Rd Floor Room 316
(b) Documents will be issued from: Farmer's House 3Rd Floor Room 316
(c) Bids must be delivered to: Farmer's House 3Rd Floor Room 316
(d) Address of bid opening: Ministry Boardroom
9. The planned procurement schedule (subject to changes) is as follows:
DATE                                                     ACTIVITY  
Publish bid notice :                             17th June, 2021
Virtual Pre-bid meeting :                     22nd June, 2021
Bid closing& opening :                        16th July, 2021
Evaluation process    :              Within 14 working Days from bid opening
Display and communication of best evaluated bidder notice : 05 working days after contracts committee approval
Contract signature:       After expiry of at least 10 working days from display of the best evaluated bidder notice and Solicitor General's approval
In view of covid 19,the lock down and related challenges on movement,please send the cleared BAF together with an application letter that will be  used to access electronic copy of the bidding document to gltfp@mtic.go.ug with a copy to procurement@mtic.go.ug.The originals will be attached to to your submission.
Download Notice:SSCBM&C SYSTEM BID NOTICE