Uganda and DRC sign Memorandum of Understanding Establishing a Bilateral Framework for Enhancing Cross Border Trade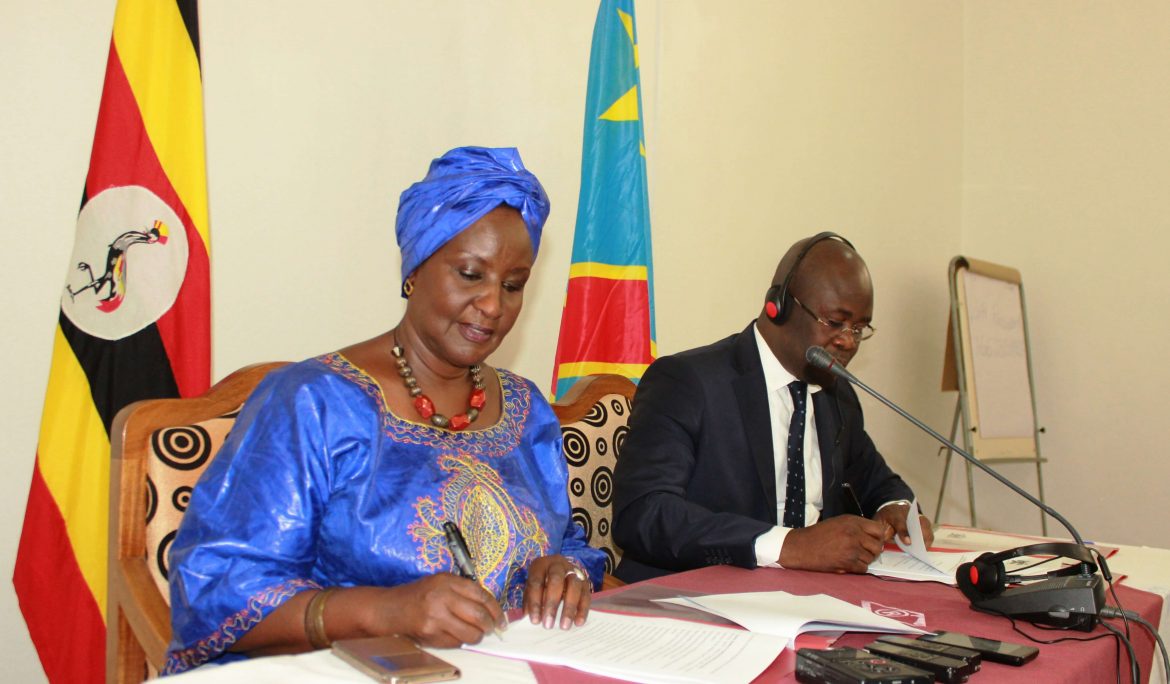 On 9th April 2018,The Ministry of Trade, Industry and Cooperatives of the Republic of Uganda and the Ministry of External Trade of the Democratic Republic of Congo desiring to promote trade between the two countries through improved trade facilitation, enhanced cross border investments and trade promotion signed a Memorandum of Understanding establishing a bilateral Framework for enhancing cross border trade.
Objectives of the MOU
The parties shall develop the economic cooperation to contribute to;
Creation of favorable conditions for sustainable development and diversification of trade in goods and services
Promotion of cross border trade and investments
Elimination of Non-Tariff Barriers
Cooperation on SME development
Cooperation on standards development
Cooperation on immigration issues
Cooperation on customs issues.
Cooperation on the implementation of the Great Lakes Trade Facilitation Project.
Areas of Cooperation
The parties shall cooperate in the following in accordance with their respective commitments at the regional and international levels:
Improving and upgrading the infrastructure and security at the borders on both sides;
Upgrading the capacity of border agency committees in order to enhance the quality and efficiency of operations at the borders;
Promoting transparency by encouraging different institutions to publish procedures and statutory charges in order to improve service delivery and performance standards;
Encouraging the adoption of Trade Facilitation measures as provided for in the Common Market for Eastern and Southern Africa (COMESA) and in World Trade Organization (WTO) initiatives
Eliminating multiple taxes, charges and fees, on bilateral trade, that are not justifiable
Granting permission to each other to directly engage with Provincial/Local Government Authority in case of any difference on matters of trade while informing the central government of these engagements
Establishing a trade dispute mechanism between cross border traders from both sides
Notify the business community of both countries on new laws and regulations that affect each other's trade.
Cross Border Trade Development
Pursuant to the Agreement on Trade Facilitation of the World Trade Organisation, the parties are committed to take all necessary and appropriate measures to reduce the time and cost of customs and trade operations and promote infrastructure and security improvements at their respective border posts.
Implementing the Simplified Trade Regime at all the common borders on the basis of the agreed common list and the COMESA charter on the minimum treat of Cross border traders.
Establishing Trade Information desks at common border posts;
Embracing and upgrading ICT at the borders;
Promoting and operationalizing joint Cross Border Trade Committees at the  gazetted border points;
Improving infrastructure and security at the borders on both sides;
Expediting Integrated Border Management systems;
Development and implementation of  joint and regular capacity building programs to upgrade the skills of border agency,  border trade committees in order to enhance the quality and efficiency of operations at the borders;
Provide for storage and value addition facilities to cross border traders
Capacity Building For SMES
Enhancing capacity building for developing policy and institutional frameworks through exchange of experts for the development of SMEs in both countries;
Promoting institution-to-institution and enterprise-to enterprise exchanges and SME development projects between the two countries.
Improving business environment through best practices;
Supporting the development of  innovative financing for SMEs;
Sharing market information to enhance business linkages of SME's in both countries;
Organizing business missions, exhibitions and trade fairs in Uganda and DR Congo targeting MSMEs; to help technology transfer and sustainable business alliances between  DRC and Ugandan enterprises;
Supporting the development and sharing of appropriate technologies for value addition, ICT to support production and management, skills development and market access for MSMEs in both countries;
Developing joint strategies and programs to support the transformation of informal MSMEs to formal business.
Developing strategies for forward and backward linkages between Micro, Small and Medium Enterprises and large scale Firms.
Sharing of Standardization technologies to uplift the MSMEs
Establishing a mutual recognition framework on SPS and Standards
Ensuring that relevant standards bodies of the two countries are operational at the key border points
Expediting the process of testing of product samples by competent authorities.
Sharing of information and inter institutional coordination
Conducting joint verification missions to manufactures of products that are subject to conformity assessment
 Cooperation on immigration
Immigration Authorities of the two countries to ;
Standardize and legalise  travel documents for the small cross border traders and communities to facilitate their day to day cross border activities
Share and exchange information on Immigration issues and trends generated in the day to day clearance of persons across the borders.
Customs of the two countries to;
Interconnect the Customs clearance systems to enhance sharing and exchange of information, reduce documentation fraud, and improve reconciliation of the Customs transactions.
Take all necessary measures to combat commercial and Customs fraud in a bid to promote the legitimate cross border Trade.
Establish arrangements to undertake Joint border and marine surveillance operations to combat cross border smuggling and fraud.
Facilitate the temporary importation and exportation of both vehicles and other goods under a mutually recognised framework
Establish and operationalize One Stop Border Posts at their common borders and develop procedures for the establishment of the Single Window at borders to enhance coordination and improve clearance processes.
Undertake extend the Real time Electronic monitoring for the sensitive goods to enhance cargo security, minimize diversions and curb commercial fraud.
Extend the Single Customs Territory Operations principle in the course of the clearance of their goods through the use of the regional transit guarantee scheme and elimination of multiple Customs clearance documentation and checks.
Offer each other technical support and assistance with the view of building the technical capacity required to facilitate the smooth movement of goods across borders.
Constitute an institutional framework and the border crossing points, at the headquarter level, and bilateral level to improve communication, coordination and cooperation at Intra – Agency, Inter – Agency, cross border and bilateral level in the course of operationalization of this Agreement.
Adequately sensitize the cross border traders on the border clearance procedures in a bid to raise awareness.
Develop a framework for establishing Representation of offices in each other's territories as, liaison for purposes.
Cooperation of the Private Sector
The private sector of the countries to establish frameworks of engagements to strengthen the trade between the two countries.