Hon. Mwebesa calls for removal of Non tariff Barriers to enhance Bilateral Trade between Uganda and Kenya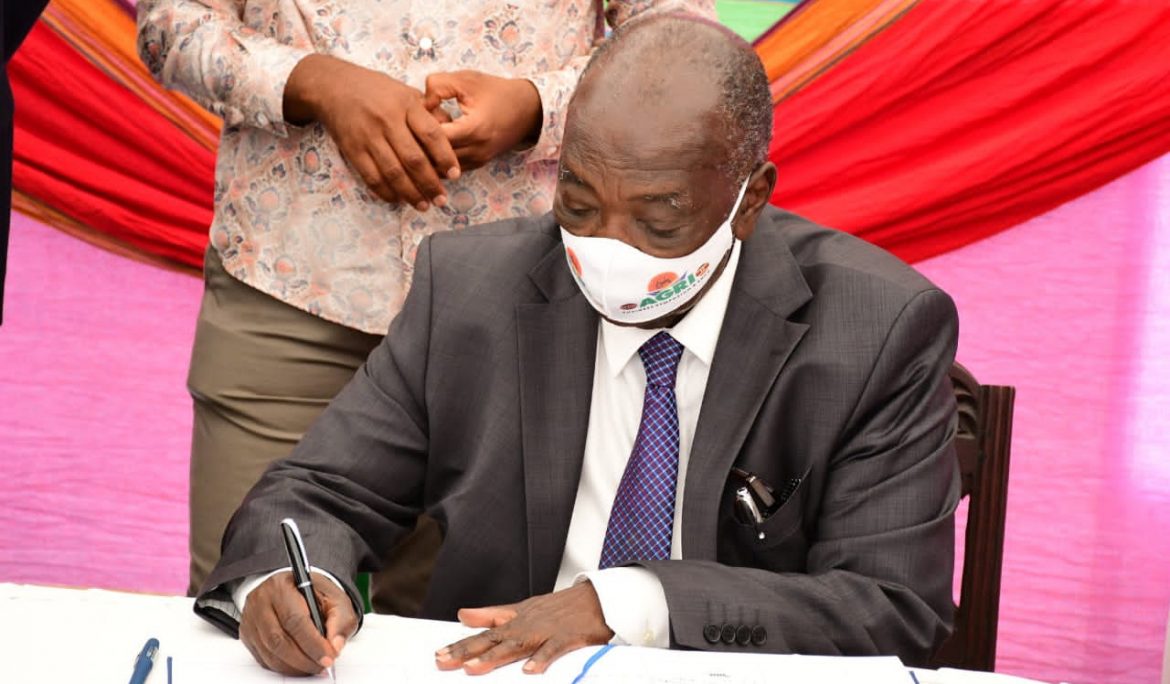 The Minister for Trade, Industry and Cooperatives, Hon. Francis Mwebesa has called for the removal of Nontariff Barriers that are a hindrance to trade between Uganda and Kenya. He noted that Kenya and Uganda are strong economic partners with both depending on each other as strategic export markets.
'As much as we talk of the positive trade performance between Uganda and Kenya, notable challenges in terms of Nontariff barriers on trade have been recorded in recent years', he said.
Hon. Mwebesa made the remarks at the opening of the Kenya-Uganda Agribusiness Symposium and Exhibition on Wednesday 8th September 2021 in Mombasa.
The Minister noted that since the commencement of the EAC Customs Union in 2005, Uganda' exports to Kenya have increased tremendously from US dollars 155.28 million in the Financial 2005/06 to over US Dollars 617.34 million by 2020/21.
He said Uganda's exports to Kenya are mainly agro products that include mainly; tea (USD 79.19 million) in transit via the auction market in Mombasa, maize(USD 49.17million), milk and cream (USD 55.95million), plywood (USD 21.33 million), dried legumes (USD 37.67 million), animal feeds (USD 22.8 million) and sugar (USD 26.6 million).
Hon. Mwebesa called for commitment between Uganda and Kenya in order to realize three key priority areas including: consolidation and promotion of Intra-Trade between Uganda and Kenya by addressing the key bottlenecks to economic integration and industrialization; Infrastructure development for interconnectivity in terms of Information and Communication Technology, road network, energy, rail and inland waterways and removal of Non-tariff barriers which are a hindrance to free movement of goods and services.
Hon. Mwebesa led a delegation of Ministers and Government Officials from Uganda to participate in the Kenya-Uganda Agribusiness Symposium and Exhibition, held from 8th to 9th September 2021 in Mombasa, Kenya.
Other Ministers and Officials who were part of the Delegation include Hon. John Mulimba, Minister of State for Foreign Affairs in-charge of Regional Cooperation, Hon. Evelyn Anite, Minister of State for Investment, H.E Richard Kabonero, Uganda's High Commissioner to the United Republic of Tanzania, H.E James Kinobe Uganda's Ambassador to the Republic of Sudan, Members of Parliament of the Committees on Foreign Affairs and Trade, Officials from the Ministry of Agriculture, Private Sector Foundation Uganda, Uganda Airlines and Members of the Private Sector among others.
The Symposium was held under the theme "Unlocking the Full Potential of Agri-business to Enhance Export Performance for National Development". It brought together different agribusiness and agricultural stakeholders including farmer associations and cooperatives, financial service providers, Government officials, agro-processors and agribusiness entrepreneurs and professionals, agro-input dealers drawn from the East African (EAC) region.