Ministers of Trade,Industry and Cooperatives Meet European Union Ambassadors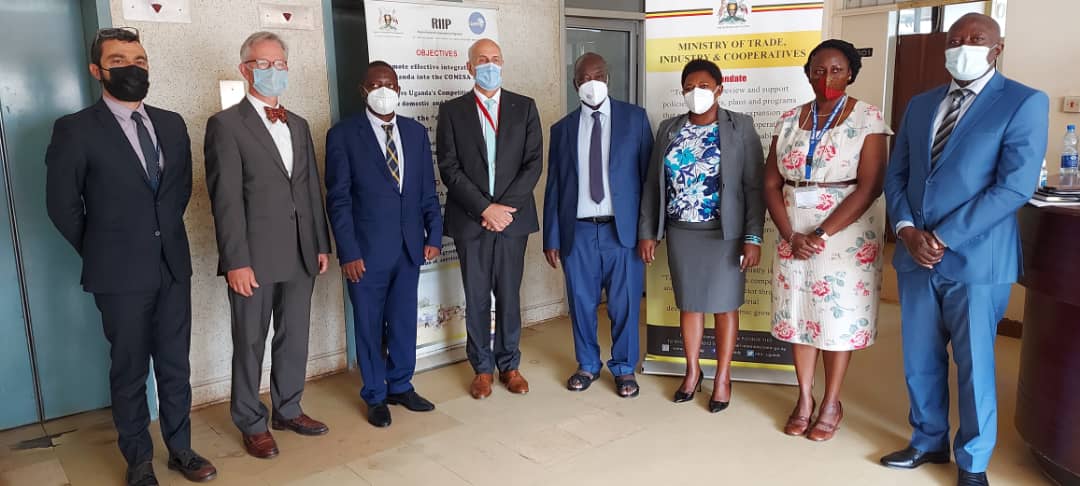 The Minister for Trade, Industry and Cooperatives, Hon. Francis Mwebesa has said the African Continental Free Trade Area (AfCFTA) is an important milestone for Uganda and that Government is working on domestically positioning itself to fully harness the market.
Mr. Mwebesa made the remarks during a meeting with the European Union (EU) Ambassadors led by H.E. Attilio Pacifici on Friday 10 September 2021 at the Ministry of Trade Offices to discuss trade cooperation between Uganda and the EU.
According to Mr. Mwebesa, harnessing the AfCFTA is largely dependent on strong and efficient public sector institutions, a strong and vibrant private sector and inter-connectedness of Africa on land, sea and in air as well as digitally.
"These should be core areas of cooperation between Uganda and the EU for the period 2021-27. We are positioning ourselves to fully harness this market; and any cooperation in this area will be very much welcome", Mwebesa said.
Mr. Mwebesa also noted that Uganda was committed to conclusion of the EU-EAC Economic Partnership Agreements (EPAs). EPAs are trade and development agreements negotiated between the EU and African, Caribbean and Pacific partners engaged in regional economic integration processes.
The Head of the EU Delegation H.E. Attilio Pacifici said the European Union provides lots of opportunities for Uganda because there is huge need for Ugandan products especially vegetables in Europe. He said the EU would put more focus on Private Sector development in its next social cooperation framework with Uganda for purposes of job creation for Ugandans. He however, said there was need for Government to address issues of standards of Uganda's products to the European market so that traders do not incur losses.
Hon. David Bahati, the State Minister for Industry highlighted key areas for possible cooperation with the EU including; import substitution through supporting manufacturing especially small and large scale industries; export promotion through emphasis on quality and standards, establishment of storage facilities and investment.
The Permanent Secretary Mrs. Geraldine Ssali said the EU-Uganda partnership should focus on support to the value chain of production and technology. She said this would solve issues of low quality products.
Read Statement: