Press Statement on the Status of Cooperatives in Uganda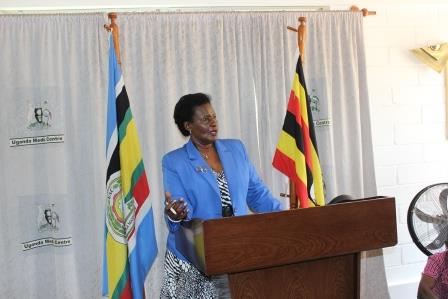 Introduction
The Cooperative movement has been in Uganda for a century now and is very much alive, with many Ugandans in the different sectors especially farmers benefiting from cooperatives. Co-operatives play an important role in the socio-economic development through the creation of jobs, improvement of member income, enhancement of agricultural production and productivity, the promotion of value addition and social stability.
Ministers statement on Status of cooperatives January 2016
Co-operatives are based on universally accepted values and principles which, when adhered to, makes them significantly more open, democratic, transparent and inclusive than for-profit businesses. Because co-operatives are member-owned and democratically-controlled, the decisions taken tend to positively impact the members and the wider interests of the community.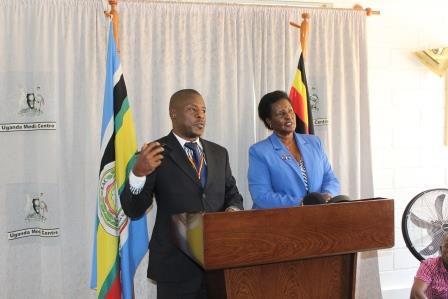 Policy and Regulatory Framework
Government has put in place a conducive environment for growth and development of co-operatives.
A comprehensive National Cooperative Policy passed in 2011. This policy seeks to: strengthen the cooperative movement; create a conducive regulatory regime and promote compliance, ensure quality assurance, standards and enhance competitiveness and expand the scope of cooperative enterprises. It also seeks to ensure professionalism in the management of co-operatives, establish a reliable management information system and ensure that co-operatives fully participate in the regional integration programs.
The East African Community Cooperative Societies Bill which has since informed its interventions in the sector.
Cabinet Passed the Cooperative Societies Act (Amendment Bill 2015) in order to further improve the regulatory environment. The amendments will strengthen regulation and, improve management and operation of co-operatives in the country.
Status of Co-operatives today
Registration Status
To date there are 16,408 registered co-operatives and in 2015 alone a total of 1014 new co-operatives were registered majority of them were SACCOs and Agricultural marketing cooperative societies.
Diversification:
Shift from traditional Cash crops: The cooperative movement has continued to diversify the range of enterprises in response to government interventions. Before this government came to power, we had mainly agricultural marketing co-operatives dealing in the traditional exports of cotton, coffee, tobacco and tea. Today we have co-operatives that have ventured into almost all sectors – energy and safe water distribution, health services, housing, transport, horticulture, tourism, handcrafts, wine production, irrigation, livestock and diary. These co-operatives have attracted women, youths, People with Disability as well as the middle income class.
In the energy sector, the following are involved in power distribution: Pader- Abim Community Multi Purpose Electric Cooperative operating in Pader, Abim, Agago and Kitgum districts; Bundibugyo Energy Cooperative in Bundibugyo district, Kyamugarura Rural Electricity Cooperative Society in Kyenjojo district. In addition to power, this cooperative distributes safe water to the community. In total, 17 energy co-operatives have been registered.
A number of SACCOS are engaged in the distribution of off grid power solutions to the members.
With regard to the transport sector, co-operatives are involved in the management of lorry and taxi parks following government directive to allow operators manage the facilities. Similarly, Boda-boda cyclists have formed co-operatives for their empowerment. There are 232 Drivers and 88 Boda Boda based co-operatives.
Market vendors have also been organized into co-operatives in line with the government policy to have the operators participate in management and revenue collection on behalf of the respective local governments. 105 market based co-operatives have been formed.
In the Health sector, 5 health Co-operatives have so far been registered to enable the communities plan and manage their health situations.
New areas of diversification include cage fish farming.
Savings and Credit Cooperative Societies (SACCOS)
There are over 5000 SACCOs in the country many of which have received funding from government thru government agencies and partners such as UCA, UCSCU, UTCSCUs In the last decade government has encouraged formation of SACCOS. This has enabled increased outreach and access to financial services especially in rural areas.
The Project for Financial Inclusion in Rural Areas (PROFIRA) is based in the Ministry of Finance, Planning and Economic Development but intended to support 500 Savings and Credit Co-operatives (SACCOs) among other interventions. In the Project design the Ministry of Trade Industry and Co-operatives has a role to play in the project implementation especially in areas to do with SACCOs. An MOU is being worked on in this respect.
Co-operatives and Value Addition
Government has initiated programmes that encourage value addition by co-operatives. There are number of cooperatives that are engaged in agro-processing and value addition activities at different levels of the value chain.
a) Through the One Village One Product (OVOP) programme, government through the Ministry of Trade, Industry and Cooperatives has provided equipment to over 40cooperative societies in 18 districts in addition to training their members in business proposal writing and value addition skills development.
The value addition equipment distributed include; maize mills and maize hullers with engines, honey jars and extractors, langstrouth bee hives, rice mills, sealing machines, groundnuts crushers, poultry feed mills and others.
Beneficiaries of value addition equipment include; Kyamuhunga bee keepers SACCO in Bushenyi, Labor Progressive Farmers Cooperative Society in Serere, Bee masters Cooperative Society in Mubende, Gunguka Okulakulane Cooperative Society in Kalungu, KITLAM Bee Keepers Cooperative Society in Kitgum, Namungagwe Area Cooperative Enterprise in Mbale, Naluwori Growers Cooperative Society in Kamuli district and many others.
b) Government through Uganda Development Corporation (UDC) has promoted the formation of Fruit Growers Co-operatives in the Teso region, in earnest, to utilize the fruit factory under construction. To date, 53 such co-operatives have been established.
c) Government recently commissioned the state of the art coffee grading and roasting plant constructed by the Ankole Coffee Producers Cooperative Union Limited.
Uganda Warehouse Receipt System Authority (UWRSA)
d) Government established the Uganda Warehouse Receipt Systems Authority and has put in place a functional Board of Directors to supervise and regulate warehouses operating the under warehouse receipt system. This will result in to the improvement in the quality and quantity of commodities traded, reduce transaction costs and enhance producers and small scale traders' income. Such interventions are also aimed at improving storage facilities to reduce post-harvest losses and encourage bulking.
UWRSA is working with the private sector including Cooperatives, the Grain Council of Uganda (TGCU) and Individual Storage Facilities owners to use these privately owned facilities to mitigate post-harvest losses and streamline agro-commodities trading.
A total of 35 Storage facilities (Silos & Warehouses) across the country with a total capacity of 162,400 MTs have been inspected and licensing is slated for February 2016.
Co-operatives and Export
e) In a bid to take advantage of Government's liberalisation program, co-operatives are exporting to regional and international markets, particularly niche markets such as the Fair Trade Market. Under this arrangement, Gumutindo ACE, Ankole Coffee Producers, Masaka Cooperative Union, Banyankole Kweterana and Kibinge Farmers Cooperative Society have exported coffee earning the country foreign exchange. Other cooperative exports include; grains, beans and pulses to the regional markets, horticulture to the EU, handcrafts to the EU and the Americas
Cooperative Financing
f) To ease access to finance by co-operatives, Government put in place special fund at the Micro Finance Support Centre, out of which they can borrow at favourable rates. Commercial and agricultural loans attract interest rate of 13% and 9% respectively. A number of co-operatives have benefited from this facility these include the following:
| | | |
| --- | --- | --- |
| (a) | Lango Cooperative Union | 500Million |
| (b) | Wamala Growers Cooperative Union | 500Million |
| (c) | Kyamuhunga People's SACCOS | 1.5Billion |
| (d) | Banyakole Kweterana | 1 Billion |
| (e) | Lyamujungu Cooperative Financial Services | 400 Million |
| (f) | Rukiga SACCOS | 350 Million |
| (g) | Mukono- Kayunga Teachers SACCOS | 250 Million |
| (h) | Luwero Teachers SACCOS | 150 Million |
Financing of BCU
Special funding amounting to Shs. 9.12 B has been extended to Bugisu Cooperative Union Limited to keep the union afloat pending finalization of investigation into allegations of mismanagement by the Caretaker Managers.
Steps taken to settle the Cooperative Unions war debts Claims
During the liberation wars 1978-79 and 1981-86, a number of cooperative unions lost their productive assets in form of stocks, vehicles, factories and buildings vandalized or destroyed or livestock taken. These cooperative unions lodged in claims to government for compensation. The NRM government has compensated some of these cooperative unions and when funds are available soon the rest will be settled.
Following the NRM caucus retreat at the National Leadership Institute, Kyankwanzi in 2012, Government committed itself to settle all these cooperative unions' war debt claims. The Ministry of Trade, Industry and Co-operatives was directed to compile details of the union claims and submit a Cabinet Memo to government. A Cabinet Memo was compiled and submitted to the Ministry of Finance Planning and Economic Development for a Certificate of Financial Implications before it is submitted to Cabinet. The Ministry of Finance Planning and Economic Development, however, referred it to the Solicitor General to have the claims made by cooperative unions verified before a Certificate of Financial Implications can be issued.
The Solicitor General constituted a Verification Committee and the process of verifying the claims is already underway. Possibly the verification could be complete before the end of February, 2016.
Challenges faced by co-operatives
Weak leadership and un-empowered membership
Low capital contributions by members
Low access to appropriate technology for value addition
Failure to appreciate technology utilization for value addition
Low storage capacity for their products which has led to losses
Inadequate Cooperative Education
Inadequate Supervision
Conclusion
The Ministry disassociates itself from comments made by some members of the public who claim they want to revive co-operatives. The Cooperative movement has over the last 30 years grown as you have noted from my presentation. The rate may not have been as fast as some people expect but this is because co-operatives are best when built from members own funds.
For God and my Country
Amelia Kyambadde, MP
Minister of Trade, Industry and Co-operatives