MINISTERS OF TRADE INDUSTRY AND COOPERATIVES VISIT EAST AFRICAN MEDICAL VITALS FACTORY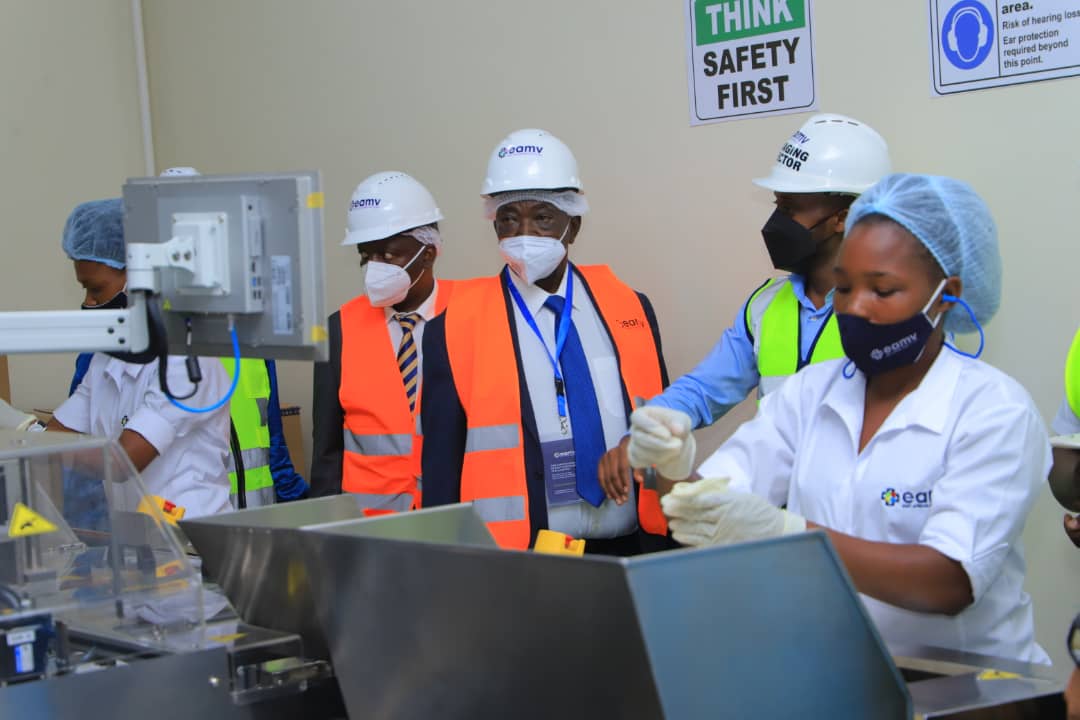 Hon Mwebesa Francis, Minister for Trade, Industry and Cooperatives and Hon David Bahati, Minister of State for Industry today went on a guided tour to the East African Medical Vitals factory, a Plant that produces medical consumables, particularly surgical and examination gloves. The ministers were accompanied by the Ag. Commissioner Industry and Technology Denis Ainebyona and the Executive Director Uganda Development Corporation Dr. Patrick Birungi.The factory is located at Namanve Industrial and Business Park in Mukono district.
Hon. Mwebesa commended East African Medical Vitals for taking up the initiative to locally produce affordable medical sundries for the country. He said this will enhance import substitution, create employment for ugandans and increase foreign exchange earnings for the country.
The EAMV Managing Director, Brian Kavuya said the facility currently produces 6 million pairs of gloves per month and 72 million pairs per annum. He noted that the consumption capacity of the country currently is approximately 70 million pairs per annum.
Hon. David Bahati, Minister of State for Industry assured the factory management that EAMV is protected under the government policy that compels National Medical Stores to source locally manufactured medical consumables on condition they meet the required standards.Hon Mwebesa pledged the Ministry's support towards the continuity of EAMV.
The team also visited the premises of Brentec Investments at Namanve Industrial and Business Park. Brentec intends to set up a factory for the manufacture of COVID vaccines and other human vaccines through a joint venture with Uganda Development Corporation and Swiss company. MGMC Pharma Group Ltd.
Brentec Uganda Limited is a Ugandan based livestock vaccines manufacturing company that pioneered the manufacture of veterinary vaccines in Uganda. The company is now exploring the possibility of manufacturing human vaccines. The idea to manufacture human vaccines is an initiative of a group of scientists led by Professor Nantulya of Brentec.Hon. Mwebesa pledged to promote and facilitate the industrial and economic by Brentec through the Uganda Development Corporation.