1ST INTER MINISTERIAL MEETING ON EXPO 2020 DUBAI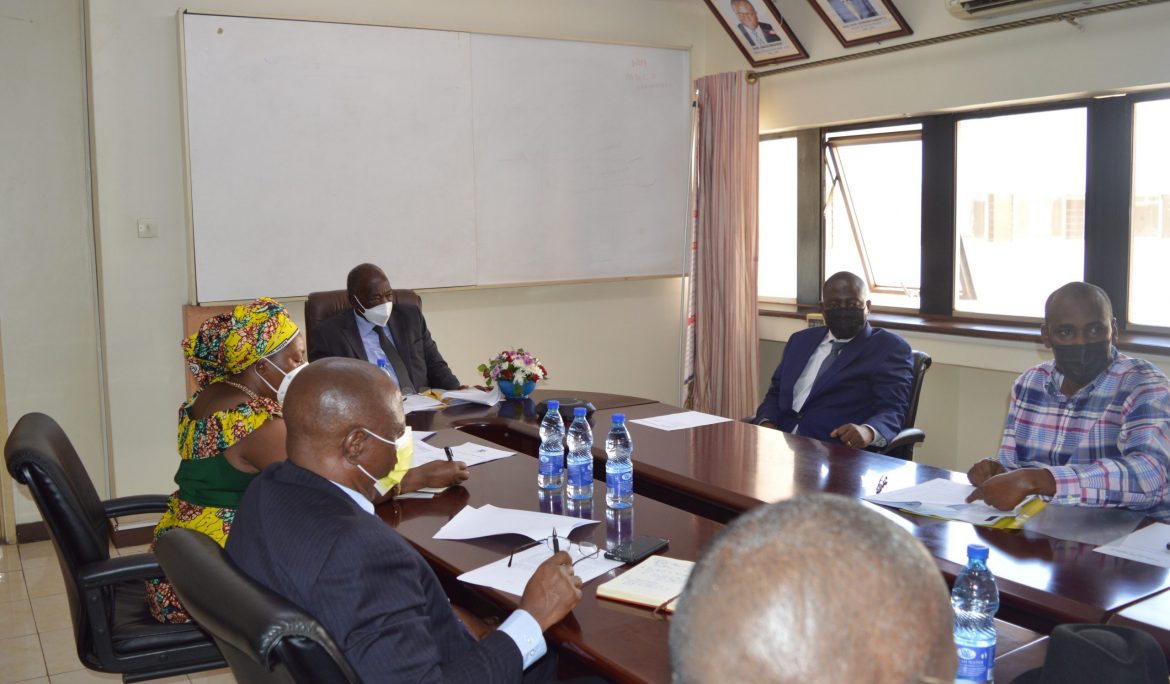 On 21st September 2021, the Minister of Trade, Industry and Cooperatives chaired the 1st Inter ministerial meeting on Expo 2020 Dubai.  The Meeting was attended by Hon. Frank Tumwebaze, minister of Agriculture, Animal Industry and Fisheries, Hon. David Bahati the Minister of State for Industry, Hon Harriet Ntabazi, the Minister of State for Trade, the PS's for the Ministries of Agriculture, Animal Industry and Fisheries, Ministry of ICT and National guidance and representatives from the Ministry of Foreign affairs, Ministry of Tourism, Ministry of Finance and National Planning Authority.
The Expo is scheduled to run from 1st October 2021 to March 2022, based on the Theme "Connecting Minds, Creating the Future".  The theme is divided under three (3) sub-themes: "Mobility", "Opportunity" and "Sustainability", and Uganda is participating under the "Opportunity" sub-theme. The Republic of Uganda is participating at this Expo on invitation by the organizer – the Government of UAE and the International Bureau of Expositions.
Uganda is participating in the EXPO to promote trade between Uganda and the greater Middle East market which had a total import bill of US$ 1.889 billion in 2020, initially targeting;
United Arab Emirates;
Saudi Arabia;
Turkey;
Qatar and;
The priority products for promotion during the Expo are the following;
Coffee
Black tea
Cocoa
Fish and fish products (Nile perch and tilapia)
Fruits (avocado, bananas, mangoes and pineapples); Vegetables and spices including hot pepper (capsicums), ginger and cardamom
Kidney beans, mug beans and sesame
Dairy products, especially milk powder
Processed food products particularly dried fruits (mango, pineapple, papaya, and jack fruit)
Uganda is also participating in the EXPO to attract investments into the profiled investment projects. These include:
Fourteen (14) infrastructure projects – including the Rapid Bus Project, Rehabilitation of the Gulu – Pakwach railway and development to Inland ports;
Five (5) mining sector projects – including the Bahati Wolfram project and the Iron and steel processing project;
Five (5) health sector projects – including medical equipment manufacturing and management centre and a specialized hospital;
Twenty-one (21) agriculture and agro-processing projects – including establishment of aqua parks, establishment of an instant soluble coffee plant and a modern cattle abattoir;
Five (5) real estate projects – including Construction of Low Cost and Medium Cost Housing Kireka Slum Rejuvenation Project and The Dairy House;
Twelve (12) tourism sector projects – including the Cable Car Project and Source of the Nile Development Project;
Three (3) energy sector projects – including Geothermal Exploration and Development at Buranga Prospect and Kyenjogyera Mini Hydro Power Generation Project;
Five (5) IT and IT Enabled services project;
Five (5) oil and gas projects – including Uganda Oil Refinery and East African Crude Oil Pipeline (EACOP) Project;
Two (2) industrialization projects – including the Sino-Uganda Modern Economic Development Special Zone.
Uganda's Participation is also to Promote Uganda's tourism ("Destination Uganda") which has won international recognition as a premium tourist destination. The tourism products to be promoted include
Gorilla tracking;
Bird watching;
Mountain hiking especially the Rwenzori Mountains,
Home-stay and;
Meetings, Incentives, Conferences and Exhibitions (MICE)
Lastly, Uganda's Participation is to enhance bilateral relations especially with the organizers, the Government of UAE.