Hon.Bahati calls for increased participation of Africa in global trade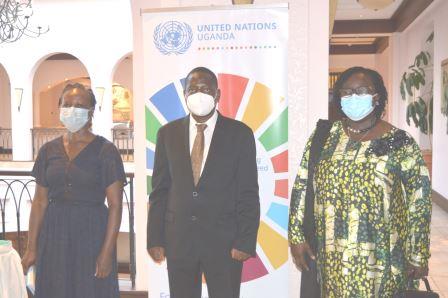 The Minister of State for Industry, Hon. David Bahati has called for increased participation of African countries in global trade if prosperity for all is to be achieved. Bahati noted that the current global trade of over $18 trillion Africa contribution is less than 3% while intra Africa trade is less than 16% compared to intra EU trade 67%, North America 58% and Latin America 20%.
The Minister made the remarks at the United Nations Conference on Trade and Development (UNCTAD15), where he delivered Uganda's Statement on Wednesday 6th October 2021 on the topic; "Reshaping Global and Regional Value Chains".
The Conference, that was held virtually, was hosted by Barbados from 3rd to 7th October 2021 under the theme: "From inequality and vulnerability to prosperity for all".
Bahati noted that currently, Africa depends on the rest of the world in terms of supply of raw materials and market for its agro-produce including minerals. "On average Africa imports $554 billion as compared to exports of $451 billion; over 14% of the Africa import bill is concentrated in petroleum products, automobile (7.2%), cereals (4.3%), plastics and related articles (3.7%) and pharmaceutical products (2.9%).  While Exports are constituted by mineral fuel (38%), precious stones/pears (11%) ores (5.3%), copper (3.6%)", he said.
Bahati added that over 58% of Africa's exports are non or semi processed while over 25% of the imported bill provides Africa an opportunity for value addition and industrialization.
He also noted that the African continent is sitting on more than USD 82 trillion of discovered natural resources with a potential to contribute to over USD 30billion of Government revenue in the next 20 or more years.
In the case of Uganda, the Minister said there are several untapped reserves including; copper, limestone, cobalt and with lucrative like gold, nickel, platinum and marble, adding that mineral beneficiation is critical for modern societies.
He further highlighted other critical issues that Governments need to address to achieve 'Prosperity for All' including; economic recovery from the COVID 19 pandemic with the view to increasing Africa participation in global trade; supply side constraints with a view to promote industrialization (value addition) including mineral beneficiation; leverage on Information technology/E-commerce for trade promotion and development while promoting access to affordable finance for development; gender disparities and gender-based discrimination; and climate change/global warming.
Overall, Bahati called for collective responsibility in order to realize the theme of the Conference of achieving prosperity for all.
 The UNCTAD Secretary General, Rebecca Grynspan underscored the need to leverage the private sector ingenuity and investment in the developing world but noted that this will need more financing for development.