Breakfast Meeting with the Chinese Business Community in Uganda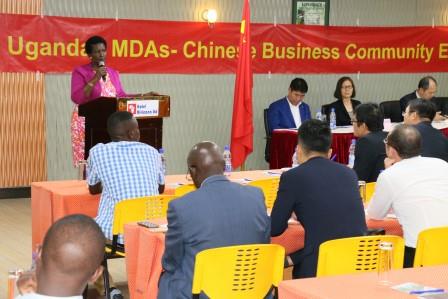 Your Excellency, Mr. Zheng Zhu Qiang, the Chinese ambassador,Government officials, The Business Community of China and Uganda, Members of the Media Fraternity, Ladies and Gentlemen
I take this opportunity to welcome you to the second breakfast meeting with the Chinese business community in Uganda. The First one was held sometime back in 2015.
This forum is an initiative of the Ministry of Trade, Industry and Co-operatives whose main aim is to provide an opportunity for the Government MDAs and the Chinese Business Community in Uganda to interface so as to enhance trade and Investment and further strengthen the cordial relationship between the two countries.
Your Excellency the Ambassador, and all invited Guests, the this meeting is to enable us come together with a share purpose of achieving in particular the following:
Inform the Chinese business community about measures being undertaken by Government to improve the doing business environment in the country;
Provide an opportunity for the Chinese business community to raise issues and challenges faced in doing business in Uganda.
Respond to the challenges and concerns of the Chinese business community in Uganda
Explore concrete ways on how to create harmonious business environment for both local and foreign investors in the country
Bilateral Relations between Uganda and China
Uganda cherishes the cordial relationship with China and applauds the Chinese Government for its contribution to the social economic transformation of Uganda in the areas of infrastructure development especially road construction, hospitals, power generation and communication development. We also appreciate the technical assistance cooperation especially through education of Ugandans in China.
Government also recognizes the role of the Chinese Private investments in our effort to industrialize the country and attain a middle income status by 2020.
Trade between Uganda and China
China has been our major trading partner and ranks second in the sourcing of imports for Uganda.
Imports from China have been on the increase; imports values increased from USD 622m recorded in 2013 to USD 740m for 2014 to USD 875m for 2015 to USD 886m in 2016.
On the other hand, exports to China have been lower and slower in growth. Uganda's exports to China for 2013 were USD 38m, 2014 amounted to USD 66m, 2015 were USD 57.7m while for 2016 were USD 27m translating into the high trade deficit.
Major commodities imported from China are: reception apparatus, vehicles, telecommunication equipment, worn clothing, iron and steel products and beverages, spirits and vinegar
Uganda's main exports to China include sesame, coffee, raw hides and skins, fish and crustaceans, cereals, cocoa cotton, oil seeds, fruits and vegetables and in minimal volumes – less than USD 70m as compared to imports of over USD 600m.
The major reason for the huge trade disparity is on account of Uganda exporting are mostly bulky, low value raw materials with minimum value addition, while we import high value products from China.
How can this forum help us to address the trade imbalance with China?
The surest response to this question would be enhancing export of value added product, and well as exploring opportunities for increasing export of services.
We also expect that the Chinese Business communities here should not only engage in importation, but also explore how to add value of the many local resources and export to China.  Be our ambassadors in China, and bring more investors, I mean real investors to engage in export oriented investment.
the Government of Uganda and the Ugandan Business community seeks strategic partnerships with the Chinese Government and Chinese business people.
Despite the current trade deficit experienced by Uganda, I am optimistic that this Forum and other initiatives will promote trade and investment between the two Countries.
Investment opportunities
Uganda has enormous opportunities in commercial agriculture and agro-processing, an area in which it has comparative advantage in the region. The other areas include tourism, oil and gas, mineral extraction, infrastructure development especially roads, energy and ICT, construction and operation of warehouses and silos, and packaging subsector.
Business environment
The Government of Uganda is committed to improving the business environment by, among others:
Putting in place enabling policies and laws;
Development of socio-economic infrastructure e.g. roads, energy and ICT;
Developing the standards and quality infrastructure, including harmonization of regional standards;
Elimination of NTBs;
Enhancing access to regional markets;
Reducing bureaucratic red tape for investors;
Strengthening the capacity of District Commercial Offices to provide trade and investment information and outreach services in their respective Districts;
Simplification of the Rules of Origin;
Promotion of public-private partnership; and
The fight against corruption.
Your Excellency, we have invited all the key Government MDAs, including MoFPED, MoFA, MAAIF, MOJCA, MEMD, MoWT, Ministry of Tourism, Wildlife and Antiquities,   Directorate of Immigration, UIA, URA, URSB, UNBS, UIRI, UEPB, UDC, UTB, UFZA, UWRSA, KACITA and  TEXDA. The apex bodies of the Uganda Private Sector are represented, e.g. PSFU and UMA. They will respond to any questions and concerns you may wish to raise.
Your Excellency, the Uganda Government and Ugandan business people wish to draw the attention of your Government and business people to the following concerns:
Involvement of Chinese business people in retail/wholesale trade.
Our take is that Chinese business people concentrate on setting up manufacturing plants while retail/wholesale trade is left to the Ugandan business people.This will help stimulate production, create employment and wealth our population hence improving on the standard of living of our people. Government pledges its commitment in providing the necessary regulatory framework to protect Chinese manufacturers from any unfair competition that may threaten the survival/existence of their establishments.
Dollarization of rent payment.
There is a serious outcry from the Ugandan business people, especially in Kampala city, regarding payment of rent in dollars. This has repulsed most local business people from accessing rentable premises in the city and other major towns. It is claimed that Chinese business people are the ones instigating landlords and this is likely to create misunderstanding between the business people of the two sister countries.
Contract farming
Government of Uganda wishes to encourage  contract farming between Chinese companies and Ugandan farmers involved in the production of agricultural products such as; sesame, cotton, sunflower and soybean so as to boost quality and quantity of such products.
I am optimistic that through our discussions and networking, we will make resolutions whose implementation will help us create a conducive trade and investment environment and promote mutually beneficial relations between Uganda and China.
The Government is fully committed to ensuring the implementation of this forum's resolutions and recommendations.
Your Excellency the Ambassador,
Uganda looks forward to attracting more Chinese investors into the country to enhance production and value addition targeted at boosting export capacity in the various sectors. We need to work together to promote our bilateral economic relations. I pledge my Ministry's commitment to further improving the business environment and enhancing our trade relations with China.
Finally, I thank the Chinese Business Association in Uganda for sponsoring this important breakfast meeting.
I thank you for listening to me.
For God and my Country