UGANDA-KENYA BILATERAL TALKS ON TRADE MATTERS KICKS OFF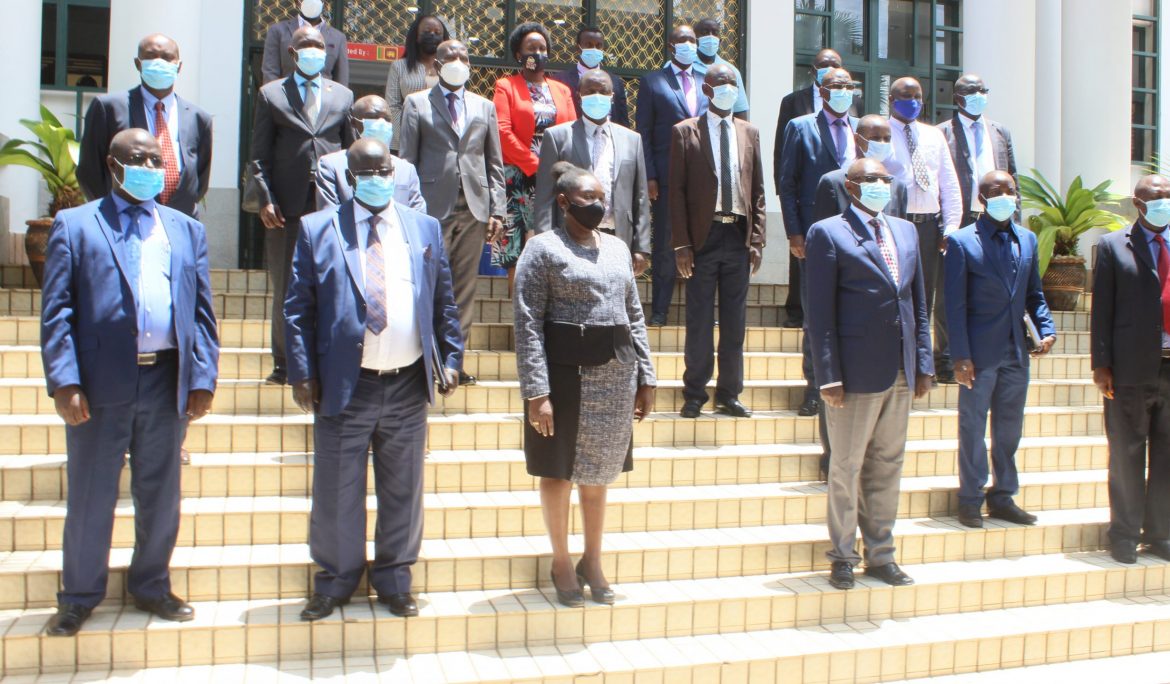 Talks between Uganda and Kenya on trade matters commenced on Monday 12 April 2021 with an opening ceremony held at Uganda's Ministry of Foreign Affairs offices. The Kenyan Delegation is in Uganda for a Sugar Verification Mission scheduled from 11-17 April 2021 but will discuss other trade related matters.
The Kenyan Delegation is led by the Principal Secretary, Ministry of Industrialization, Trade and Enterprise Development, Johnson Weru while Uganda's Delegation is led by the Acting Permanent Secretary, Ministry of Trade, Industry and Cooperatives, Grace Adong Choda.
In her opening remarks, Uganda's Head of Delegation, Ms. Grace Adong Choda highlighted the benefits of the East African Community integration including among others; free movement of labour between the two countries with many Kenyans being employed in Uganda's Tourism sector, goodwill and cordial bilateral relationship between the two countries.
Kenya's Head of Delegation, Johnson Weru reiterated the benefits of the EAC integration. He noted that Kenya was so far trading well in the Africa Continental Free Trade Area (AfCFTA) and would expand beyond the trading bloc.
According to a statement released by Uganda's Foreign Affairs ministry, Uganda has an annual sugar production capacity of approximately 550,000 Metric Tons with a domestic consumption of approximately 360,000 Metric Tons; leaving a surplus of 190,000 Metric Tons.
The verification Mission will entail a sugar verification mission as well as tackle other market access challenges in areas such as poultry, maize, dairy products (milk) and other Non-Tariff Barriers (NTBs).
The Mission will visit the following factories: Sezibwa Sugar Factory, SCOUL Sugar Factory, GM Sugar Factory, Mayuge Sugar Factory, Kakira Sugar Factory, Kaliro Sugar Factory, Kamuli Sugar Factory, Bwendo Sugar Factory, Hoima Sugar Factory, Kyenjojo Sugar Factory, Kiryandongo Sugar Factory, Atiak Sugar Factory, Victoria Sugar Factory among others.