National Industrial Policy 2020 Launched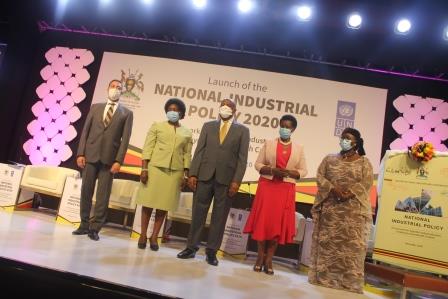 Today 4th May 2020,the Ministry of Trade, Industry and cooperatives with support from  UNDP launched the National Industrial Policy (2020) and the National Industrial Sector Strategic Plan (FY 2020/21 – FY 2024/2025).
It was officially launched by the Prime Minister of Uganda Hon. Dr. Ruhakana Rugunda. In his remarks,the Prime Minister said that Uganda's quest for industrialization is also fully highlighted in the Vision 2040 and the five-year National Development Plans (NDPs). The third National Development Plan (NDP III) prioritizes industrialization as a key driver for Uganda's prosperity in line with the Vision 2040.The overall theme of the NDP-III is sustainable industrialization for inclusive growth, employment and sustainable wealth creation. The Policy is therefore being launched at a perfect time.

The Minister of Trade,Hon. Amelia Kyambadde said that the goal of the National Industrial Policy 2020 is to double the manufacturing value added as a percentage of GDP from the 8.3% in 2018.19 to 16% in 2029/30 & increase industry sector contribution to GDP from 27.1 2018/19 to 31.7% in the next 10 years.
The UNDP Resident Representative Ms. Elsie G. Attafuah re echoed UNDPs  commitment  to support the government of Uganda in delivering the Uganda we want, generating new employment opportunities for youth, strengthening value chains, linking industry and trade through domestic trade and regional integration.
The policy can be  downloaded below: