Minister of Trade Uganda meets Minister of Trade Singapore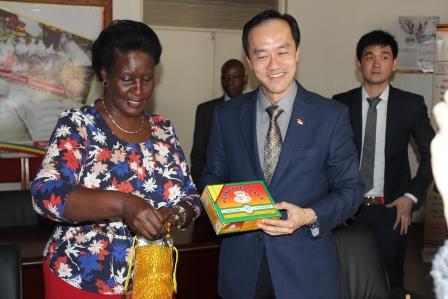 Trade Minister Amelia Kyambadde meets Singapore Minister of State for Trade and Industry
Singapore has cautioned Uganda not to loose its agricultural sector to the mining industry especially to the newly discovered oil. The caution was made by the Singaporean Minister of State for Trade and Industry, Hon. Dr. KohPoh Koon, during a meeting with Trade Minister Amelia Kyambadde. Dr. Koh was in Uganda for a state visit to explore new growth opportunities and strengthen the trade relations between Singapore and Uganda. He came with a delegation of investors with interests in investing in Uganda.
Dr. Koh commended Uganda for carrying out organic farming and encouraged the country to develop its agricultural sector, market the agricultural products so that it becomes the world's market for organic products. He acknowledged that the benefits of oil mining and refinery were numerous, but however cautionedabout the challenges or risk factors such as water sanitation, disposal of wastes which contribute to contamination of the land and building sustainable infrastructure.
In her remarks, Hon. Kyambadde welcomed Hon Dr. Koh greatly appreciating his timely visit to Uganda. She underscored the importance of trade relations between Uganda and Singapore noting that the volume of trade between the two countries had reduced in the past few years and there was thus a great need to explore more areas of investment.
The Minister informed the delegation that Uganda is an agricultural based economy located at the heart of regional economic blocs such as the EAC-COMESA-SADC Tripartite Free Trade Area (FTA) which provides vast market potential and increased trade opportunities for the country and its trade partners. She added that with an annual GDP growth rate of 6%, Uganda also boasts of numerous investment opportunities in the sectors of Manufacturing, Agriculture, Oil and gas exploration, ICT, Infrastructure (including storage and housing construction, renewable energy production, Mining and Tourism among others.
Kyambaddeencouraged her counterpart to interest the Business Community in Singapore to explore the investment opportunities in Uganda in the areas of value addition for agricultural products, agro processing, tourism, minerals and petroleum, manufacturing, fisheries and services industry such as education, health, and financial services among others.
Hon. Koh Poh Koon who was in Uganda for the first time noted that Singapore would like to explore the possibility for formation of Bilateral Investment Treaty between Uganda and Singapore in the short term and EAC Cooperation framework in the longrun. He added that there are many Singapore Companies with interest in investing in Uganda especially in the areas of urban planning, water recycling,warehousing, infrastructure development, and technology transfer.
Koh Poh called upon Ugandans to penetrate the market in Singapore by exporting coffee and cotton, and also open business ventures in Singapore noting that the country has an advantage of being linked to about 600 ports and investment treaties among others thus having a favourable environment for the business community.
Singapore has, in recent years, increased her exploration of trade and business investment opportunities in sub-Saharan Africa and south Asia as these two are viewed as the prime emerging markets for the Asian country.
Uganda's trade with Singapore is imbalanced; by 2015 imports from Singapore amounted to USD 42Million against exports of USD 15Million. Uganda's main imports from Singapore were mainly palm oil, crude, petroleum oils and preparations, transmission equipment, medical equipments, polyethylene, uncoated paper, vehicles while the Uganda exports to Singapore were mainly agricultural products that include; cotton, coffee, cocoa beans, and frozen fish fillets.