Inaugural Summit of Contractors and Service Providers Takes Place in Serena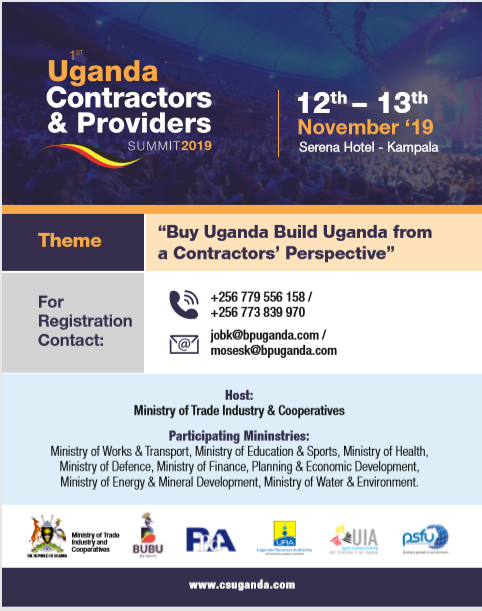 The Ministry of Trade Industry and Cooperatives has organized the first inaugural summit of contractors and Service providers from 12th to 13th November 2019 at Serena Hotel Kampala.
The summit has been organized in partnership with Beautiful Partners and Uganda Contractors and Service providers Association.
This contractors' summit has been organized in line with the BUBU Policy Guiding principles under partnership with the private sector. It creates awareness about local sourcing of procurement and adherence to quality, standards and competitiveness.
In her remarks,the Minister of MTIC Hon. Amelia Kyambadde said the  Ministry has been in touch with local contractors and suppliers. She assured them that their views and concerns were being streamlined into the PPDA Amendment Bill and the new Regulations under the PPDA Act. She reminded the attendants that the Reservation Guidelines under the PPDA Act and Presidential Directives have been issued in support of implementation of the BUBU policy and other related policies including the National Trade in Services Policy. The ongoing work to convert these Reservation Guidelines into Regulations under the PPDA Act will give the desired force of law for BUBU Policy implementation.
The main objective of this Summit, the first of its kind in the Region is ensure the following:-
Create awareness for the local contractor about their right and entitlements
Address challenges faced by the contractors on daily basis for example: bureaucracy, insufficient information on bidding procedures, limited accessibility to affordable credit, corruption and discrimination against local contractors in favor of foreign contractors
Increase effective participation of Uganda owned enterprises (Local Content).