PUBLIC UNVEILING OF THE SPECIAL PREFERENTIAL TARIFF TREATMENT OF UGANDA'S EXPORTS TO THE PEOPLE'S REPUBLIC OF CHINA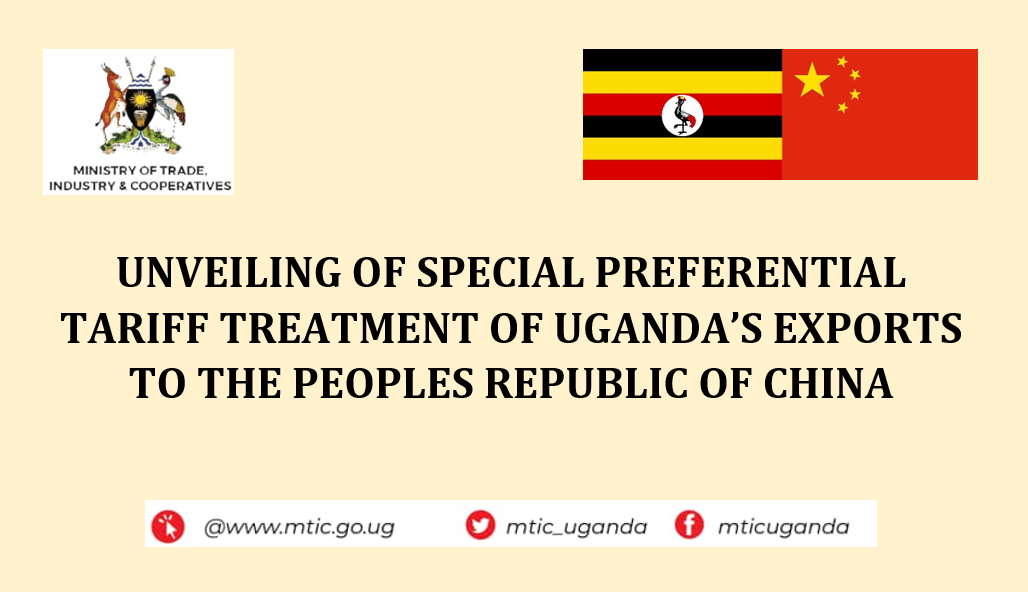 On 18th November Uganda and China Unveiled the Special Preferential Tariff Treatment for Uganda's Exports to the People's Republic of China at Hotel Africa Kampala, Uganda.
Trade volumes between China and Uganda have been in on an upward trajectory, Uganda's exports to China has remained remarkably low. Our figures show that the country's exports to China consisting mainly of unprocessed agricultural products has increased from US$0.28million in 2000 to US$36.19million in 2022. On the other hand, the value of China's exports to Uganda has increased from US$31.4million to US$ 1.3billion consisting mainly of industrial machinery and construction during the same period.
With this enhanced Duty Free and Quota Free access by Uganda to China, we have the opportunity to harness a market that boasts of:
A population of 1.4 billion people
Economy/GDP of US $ 18.32trillion
GDP per capita of US $ 18,210
Average annual import bill of about US $ 2.7trillion
There is enormous market potential to exploit for both agricultural as well as industrial products. The 98% coverage of tariff lines by the People's Republic of China to the Republic of Uganda is an indication of renewed commitment to further boost the bilateral relations.
A walk through the product list of the Special Preferential Tariff Treatment, the Sanitary and Phytosanitary Measures from both sides as well as the procedures for obtaining the Certificate of Origin to benefit from this Scheme were presented
China's SPT – List of Products covered_compressed Rules of origin and Related Implementation Procedures